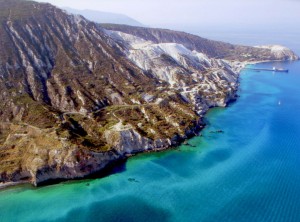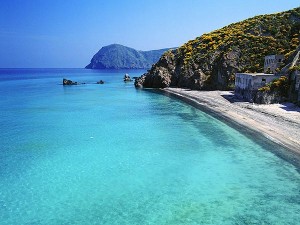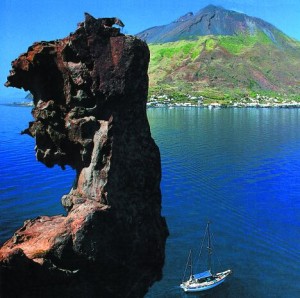 Proclaimed in 2000 by the UNESCO World Heritage Site, the Eolie archipelago consists of seven islands: Alicudi, Filicudi, Lipari, Panarea,Salina,Stromboliand Vulcano. All seven are volcanic islands, but only the volcanoes ofStromboliand Vulcano are still active. On the other islands, however, still occur volcanic features such as fumaroles.
The largest town in the archipelago is Lipari, which is 24 miles from the Sicilian coast: it is both the size of the territory and number of inhabitants (around 9000). The island, whose inhabitants are called Lipari or Liparoti, is divided into six zones (Lipari center, Piano Conte, Canneto, Quattropani, Acquacalda and Porticello) and it depends on the rest of the archipelago, with the exception ofSalina.
Lipari has three ports: Marina Corta for small boats, Marina Lunga boats and hydrofoils and Pignataro for fishing boats and pleasure craft. It should be emphasized that, together with that ofSalina, these are the only landing places for fishing of theAeolian Islands. On the other islands, in fact, the fishermen are forced to keep the boats in the dry on the beaches for much of the year. To emphasize, finally, the picturesque view from the summit ofMountChiricaarchipelago, with its 602 meters above sea level is the highest of the other Lipari.
On the route of the legendary Ausoni and navarchi cnidii to the north east coast ofSicily, windswept salt, the Aeolian archipelago unfolds like a fan, its seven islands that enchanted, by their nature explosive volcanic, are sisters ofHawaii, the pearl of the Pacific. TheAeolian islands, since ancient times, were colonized by Neolithic peoples interested in exploiting obsidian, unsurpassed material for the manufacture of cutting tools. Between the sixteenth and fourteenth centuries BC, the islands became an important commercial milestone on the way of metals, especially on the route of the pond, which descended from the British Isles until the East, passing through theStraitofMessina. Later, in Roman times, I'arcipelago prospered on trade of sulfur, alum and salt, gradually decaying, until permanent abandonment, determined by further volcanic eruptions and its designation, triggered by the Second Council of Nicaea, in dwelling place of the devil and the physical manifestations of this disturbing presence. In Norman times there was a gradual repopulation of the islands that they started to live a full season of splendor drawing mostly what is their actual face.